Chem 4-D





PowerRef ™ for Windows
A easy-to-use database program for managing bibliographic references costs less than others!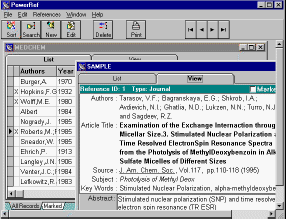 With PowerRef You Can
Manage references of journal articles, books, patents, reports, software, hardware, video, clips, and more. New reference types can be easily defined;
Store bibliographic information, keywords, abstracts, notes, and more, with each reference. Quickly define your own fields;
Search, sort, mark, and print references;
Attach graphics and documents to references;
Export references to your favorite word processor in a particular journal format, including required text styles (italic, bold, underline).
Export to files or the clipboard. Interactively define an unlimited number of new journal formats;
Import references from databases, on-line services, or other programs. Export references to other programs. Define new database formats.
PowerRef is Unique Because;
PowerRef allows you to attach any type of documents (graphics, MS Word, Word Perfect, etc.) to references. You can save these documents within PowerRef databases or save as links. You can view graphics in PowerRef and open documents using other programs;
Ease of Use. Its carefully designed commands and dialog boxes provide quick access to many powerful functions. Extensive on-line help is available;
Open Architecture Design. You can add an unlimited number of fields, reference types, bibliographic formats, and import/export database formats;
Solid Database Management. You can create an unlimited number of databases and store an unlimited number of records in each database;
Summary of Features
Editing Capabilities
Multi-step Undo and Redo
Define an unlimited number of user fields
Change names of any fields including user-defined fields
Easily define new reference types
Use value-aid lists for any fields. Dynamically search and update values
Instant cut/copy/paste between your word processor and PowerRef
Expanded Edit Window
Change reference types instantaneously
Navigate to other records while editing
Duplicate current record
Check duplicate while editing
Attach graphic images
Attach any type of documents (MS Word, Word Perfect, etc.)
Attach files within databases or as links
Viewing and Browsing
User-controllable display fields and formats
Tabbed Pages for easy switching between List View and Full View
Tabbed Notebooks for instant toggling among options: all records, marked records, searched records
View attached graphic files
Save attached graphics or documents to disk
Open other programs (MS Word, Word Perfect, etc.) to view attached documents
Searching and Sorting
Sort records by multiple fields
Simultaneously search patterns in multiple fields
Search key words in any fields
Importing Capabilities
Import many types of formats: tagged lines, tab delimited, comma delimited, multiple lines, and more
Supports On-line service formats and formats of other reference programs
Easily define new import filters
Quickly merge new filters downloaded from ChemInnovation Software's www site
Exchange filters with co-workers and peers
Exporting Capabilities
Export formatted references
Export references in rich text format
Export on-line server formats and formats of other reference programs
Easily define new export filters
Merge new journal formats or database formats downloaded from ChemInnovation Software's www site
E-mail export filters to co-workers
Printing
Page Setup
Control page margins and line spacing
Print formatted text
Support virtually all printers
Full Control of Font Faces, Styles and Colors for
Viewing
Editing
Printing
Exporting
Multiple-Document Support
On-Line Help
Hyper-text style on-line help
Free Technical Support
We offer free technical support to registered users via E-Mail, Fax, Telephone
System Requirements
PowerRef runs on IBM PC and compatible computers, 386 or higher, running Windows 3.1/95/NT. It requires 2 MB of memory and 4 MB of hard disk space.
Free PowerRef Demo for Windows